A Best Gutters offers the best value for new roof installations. We use top quality materials and the latest in roofing technology to ensure a durable, water-tight roof that we can guarantee for 10 to 25 years.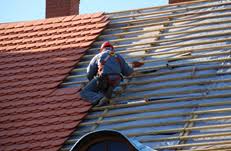 Why Choose A Best Gutters for your roof installation?
For a job like new roof installation, there is a tremendous amount of waste and debris. The entrails of this process are unsightly and hazardous. Unlike other roofing companies, we are not dependent on others. We own our own roll-off dumpsters for trash and debris removal. This reduces the clutter of construction waste that can build up on a roof installation job.
A Best Gutters delivers the greatest value for our clients. Our team of roofing specialists is aware of the latest in roofing technology to quickly assess your roofing needs and present the most efficient and economical options. We also keep your budget and schedule in mind throughout the entire process. Our goal is the same as yours – to complete the project with optimal results in the least amount of time at the right cost for you.
Getting a solid guarantee from any company these days has proven to be difficult. Many times, the guarantees often fall short of what was originally promised.
A Best Gutters guarantees that your roof will be taken care of promptly no matter what type of work your roof needs. With the A Best Gutters Guarantee, you are assured that what we install will last for years to come.
Roof Replacement
A roof replacement is the most extensive process of roofing and carries with it a long-term solution to roof issues. Installing a new roof provides 20 years or more of life. Depending on the quality of the roof, this may be the best and most valuable option.  Replacement is necessary when a roofing system is damaged beyond repair or restoration. This occurs during severe weather conditions or material wear and tear over time (maintenance maintenance maintenance!)
While it is more invasive and expensive than restoration, replacing the roof may be more of an initial investment but can save money in maintenance expenses in the future. Costly repairs can prove to be more of a hassle and hindrance to a company dealing with constant leaks. Not basing itself on the quality of the previous roof like other projects, a new roof starts the process from scratch, and with our experienced roofers, the integrity of the roof will be greatly increased.
Depending on the age of the building envelope and roof system, A Best Gutters will present a collection of roof replacement solutions that meet our client's budget, lessen disruptions to their daily operations, comply with commercial building codes, and afford a long-term roofing investment.